Take meetings and collaboration to the next level with video and audio conferencing solutions. From face-to-face visual communications and productivity-driving audio conferencing stations, Grandstream offers conferencing solutions that deploy into any network.
Full HD Conferencing
Grandstream has everything that any business needs to create a powerful yet affordable video conferencing solution that increases productivity and saves money on business travel. If you are looking for room-based hardware solutions, our GVC series of Video Conferencing devices empowers any business with a robust and affordable collaboration focused environment that can link together multiple offices and rooms. If you are looking for an online video meeting solution, or if you need a platform to link your GVC devices together, look no further than our IPVideoTalk video, audio and web conferencing platform.
Audio Conferencing
The GAC2500 is designed to transform your business conferencing experience through its immersive audio conferencing environment and suite of advanced features. Redefining audio conferencing, the GAC's 6 lines, WiFi and Bluetooth compatibility, HD Audio, Gigabit network ports and Android operating system with touch screen enhances the way users will meet and work together. Easily connect any time, using the GAC's 7-way conference bridge. the GAC supports a productive experience with the GAC2500's call scheduler, AndroidTM operating system and Google Play Store access.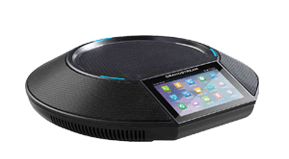 GAC2500
Features
6 lines, 6 SIP accounts, 7-way voice conferencing
Runs Android 4.4 and offers full access to the Google Play Store and all Android apps, such as Skype, Google Hangouts and more
Bluetooth to support syncing of headsets and mobile devices
Built-in 7-way conference bridge
4.3" (800x480) capacitive touch screen for easy use
Auto-sensing Gigabit port, built-in PoE support
Built-in WiFi support offers mobility and network flexibility
Full HD audio support to maximize voice quality
Daisy-chain support to combine two GAC2500 together
TLS and SRTP security encryption